Patient Forms
Your child's first visit is often the most important.
---
Patient Forms
---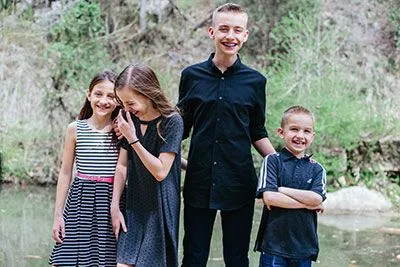 We look forward to meeting you and your child and will strive to make each visit to our office an enjoyable experience for you both!!
The American Academy of Pediatric Dentistry (AAPD), American Academy of Pediatrics (AAP), and American Dental Association (ADA) all recommend establishing a "Dental Home" for your child by one year of age. Children who have a dental home are more likely to receive appropriate preventive and routine oral health care.
The Dental Home is intended to provide a place for dental care other than the Emergency Room.
This visit is intended to help guide and advise the parent of issues that will be of concern during the development of their child's teeth. The main objectives are to determine the infant's risk of developing cavities, diet counseling, trauma prevention and frequency of routine recall visits. We always welcome the parents presence during examination and treatment visits. The parents should be a passive observer at all times during the child's dental visit. We want your child's visit to our office to be a happy one. We strive to make each experience an educational visit that is also filled with fun, laughter and excitement about returning to see the dentist year after year. Our goal is to make every child feel comfortable and welcomed. If your child has questions that are difficult for you to answer, please refer him/her to Dr. Gregerson, Dr. Singletary, Dr. Kim & Dr. Asher or one of our highly trained staff members for the proper answer and discussion.
Our doctors and staff are excited about your first visit to our office and look forward to orienting you to the Texas Tooth Fairies office experience. Our goal is to create a unique pediatric dental experience that is warm, friendly, inviting and makes you feel at home.
QUESTION: What can I expect at the first dental visit?
Upon arrival to our office you will enter a spacious reception room. This room was designed for the comfort of parents and children. In addition to the main reception area we have a special space just for children. Our "Game Room" has been designed for children to play video games and view our resident tooth fairy's house. Yes, we have a resident tooth fairy that has taken up residence in our office. See if your child can identify their favorite room in their miniature house. We also have a "TV Room" which has comfortable bench seating to allow lounging while watching your favorite movie. These areas allow your child to be occupied and comfortable while waiting to be called back for their first dental experience.
We have internet access for parents if they would like to stay in the reception area and work while their child is having their tooth check up.
Your child's first dental visit to our office will include the following:
Being greeted by one of our child friendly staff members and being escorted back to our inviting examination rooms. Each room is equipped with ceiling mounted TV's for entertainment and toys to play with.
Your personal dental assistant will guide you through the visit. Depending on the anxiety level of your child, the doctors will take the steps necessary to help your child feel comfortable in their new surroundings prior to meeting Dr. Gregerson, Dr. Singletary, Dr. Kim & Dr. Asher. They will show your child the instruments we will use and allow your child to make some choices regarding the flavors of the toothpaste and fluoride to be used. These little choices will enable your child to feel like they have a role in their care and make them more accepting of their visit.
Once your child has become acclimated to this new environment they will meet Dr. Gregerson, Dr. Singletary, Dr. Kim or Dr. Asher.
Following this, a thorough oral examination consisting of a:

soft tissue evaluation,
oral cancer screening,
bite measurement and evaluation will be performed.
During your child's examination, our Doctors and staff will consult with you regarding the following:
Eruption Pattern of the teeth: The doctors will identify which teeth are present and when you can expect to have new teeth erupt or baby teeth fall out.
Diet: Your child's diet and its effect on their teeth will be discussed.
Home oral hygiene habits: Your child's brushing technique, flossing and tooth paste use will be reviewed.
Oral Habits: Oral habits consisting of pacifier, finger or thumb sucking will be assessed.
Crowding or Spacing present: This is an indicator of future orthodontic needs. Dr. Gregerson, Dr. Singletary, Dr. Kim and Dr. Asher will advise you if early intervention is needed for your child.
Cavity Detection: Your child's propensity to developing cavities and identification of weak spots that could pose a problem will be identified.
Treatment Recommendations: If problem areas are identified, Dr. Gregerson, Dr. Singletary, Dr. Kim and Dr. Asher will review these with you and develop a treatment plan to aid in your child's overall dental health.
After the initial examination, the following may occur depending on your child's age and cooperation level:
Professional cleaning of the teeth
Flossing
Scaling: This involves the removal of calcified plaque off of the teeth.
Fluoride Treatment: An in office fluoride treatment may be applied to your child's teeth to help decrease cavities.
X-Rays: With your permission, we will obtain x-ray films for diagnostic purposes.
A special gift at the end:
After all of your questions have been answered by our doctors, your child's personal dental assistant will escort you and your child to the prize area where your child will be able to choose from our special wall of drawers. Your child may select one prize out of our prize area as a reward for seeing the dentist. Each drawer has a different prize so rest assured your child will be kept occupied looking through the drawers while you have a chance to speak to the front desk personnel regarding scheduling your child's next dental check-up.
For your convenience, click on the button below to print and complete your new patient forms. We find most parents like to fill these out in the comfort of their home. Please bring these with you to your first visit to our practice. For those with younger children, please print our personal coloring book below to help prepare your child for their first dental visit.